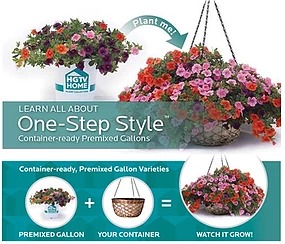 Earlier this month, we were so pleased to have Sarah from HGTV and Thom from Botany Lane at each of our stores to talk about the HGTV Home Plant Collection. "HGTV is known for innovative, on-trend styling," says Sarah. In fact, they go around the world to discover beautiful new flowers and design trends to bring home to your garden.
One of the newest HGTV innovations is their One Step Style Container Gardening program. One Step Style is perfect for people who want gorgeous container flowers, but don't have a lot of time to put them together (i.e. just about all of us!). "If you come to O'Toole's in May, it's easy to get overwhelmed by all choices," says Thom "One Step Style really takes the guess work out of container gardening."
The pre-mixed, container-ready gallon sized combinations of annuals are hand selected by the experts at HGTV to not only look great together, but to grow great together as well. The combos go straight from the pot into your hanging baskets, patio pots or window boxes. Voila! Instant color. All of the annuals in One Step Style combos are also available in quart size pots, so you can mix and match, get inspiration and customize your containers and flower beds. As Thom and Sarah remind us, "the only rule in gardening is there are no rules!"
Sarah and Thom also shared with us HGTV's beautiful new succulent bowls. Succulents are becoming more and more popular, and it's easy to see why. They have a unique, modern look and are easy to care for. "You'll kill these plants with kindness before you kill them with neglect," says Thom. They only need light water and will let you know when they're thirsty by drooping in the pot. HGTV has some beautiful, contemporary succulent planters and also individual plants to create your own.
Come on by O'Toole's and check out our full line of HGTV Home Collection Plants today!