During fall bulb season, our shop is a lot like an ice cream parlor. Of course, we have everyone's favorite flavors like grape hyacinths,
bearded iris
and
tulips
. These are the "Cookie Dough" of bulbs – always a treat! But every now and then, you might feel like a "Butter Pecan," or heck, even a "Pistachio" for your fall garden. If you're looking for a unique flavor of bulb this season, check out some of these lesser known varieties that we just love!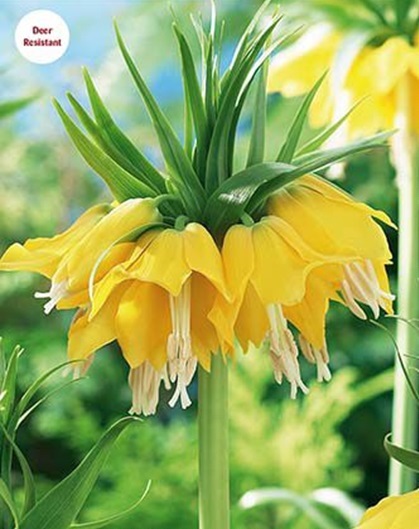 1. Frittilaria Frittilaria is one of the great, under-appreciated bulbs. But they are super easy to grow (and deer resistant!) and can add a touch of the tropical to your backyard space. Fritillaria blooms with an exotic cluster of blossoms topped with green foliage that looks like it came off of a pineapple! While frittilaria pairs well with more traditional bulbs like tulips, daffodils and hyacinths, it's also one of the rare bulbs that can stand alone as a single specimen.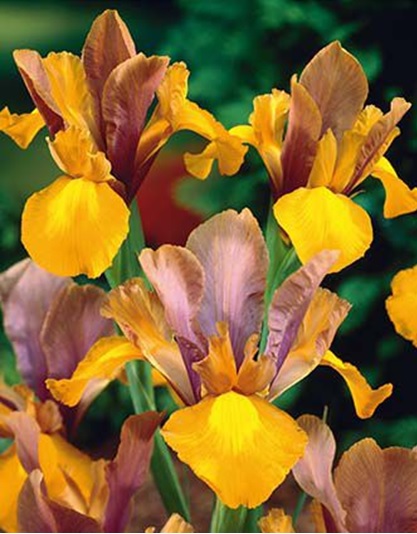 2. Dutch Iris These short, compact irises are the perfect addition to your
cut flower garden
. They have a long vase life and are super easy to cut and place in arrangements. Dutch Iris bloom from spring into the early summer making them the perfect spring fling for your garden or indoor flower vases. Blue and purples tend to be the most popular colors, but we just love the striking orange of Bronze Queen.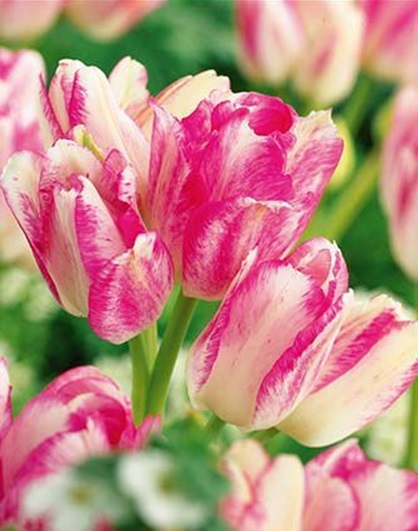 3. Multihead Tulip Also called Bunchflowering Tulips, these bulbs are the ultimate bang for your buck. It's like a full bouquet in each bulb! Most tulips bloom with a single flower on a long stem, but these varieties divide into 3 to 6 separate flowers on the same stalk. These are perfect to make a big impact in the spring. There are many colors of multihead tulips available, but we can't get enough of the strawberry and cream swirls of Dream Club (also a great name for an '80's cover band. Too late, already called it!)
4. Species or Botanical Crocus These are also known as Snow Crocus because they are the earliest crocuses to bloom. Sometimes even emerging out from under a blanket spring snow. Snow Crocus also naturalize extremely well, meaning they will spread on their own each season, perfect for covering a large area. Check out the variety 'Prins Claus' with its wistful blues and whites concealing a vibrant red and gold center!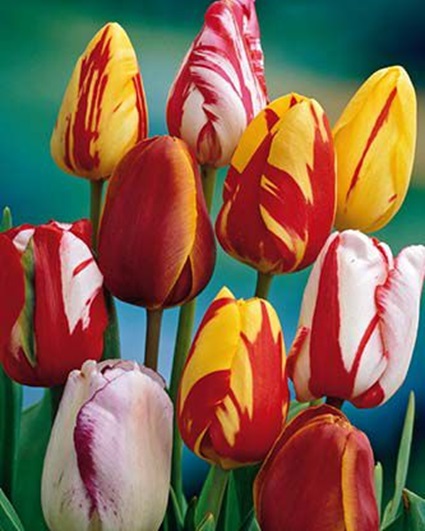 5. Rembrandt Tulips OK, we had to talk about one tulip! These masterpieces got their name after they appeared in the still life paintings of the Old Dutch Masters. Those paintings helped usher in a fascinating moment in Dutch history known as
Tulip Mania
– when tulip bulbs became all the rage and sold for truly insane prices. Strangely enough, the two-tone color palate that caused such a sensation was originally the result of a type of virus transmitted by aphids. But not to worry, modern Rembrandts achieve the same look through natural selective breeding.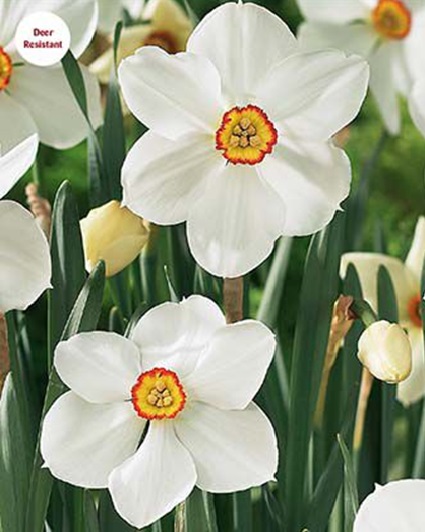 6. Narcissus Actaea From fine art to literature! This is also known as The Poet's Daffodil and is one of the earliest daffodils to ever be cultivated. With it's pure white petals surrounding a glowing center of red and yellow, this heirloom daffodil is perfect for naturalizing in the garden. The Poet's Daffodil was mentioned by Dante and is closely identified with the Greek myth of Narcissus – the tale of a vain youth who falls in love with his own reflection in a pond. In the story, Narcissus can't bear to part with his shimmering reflection and eventually withers away to nothing, leaving only this beautiful flower as a haunting legacy.